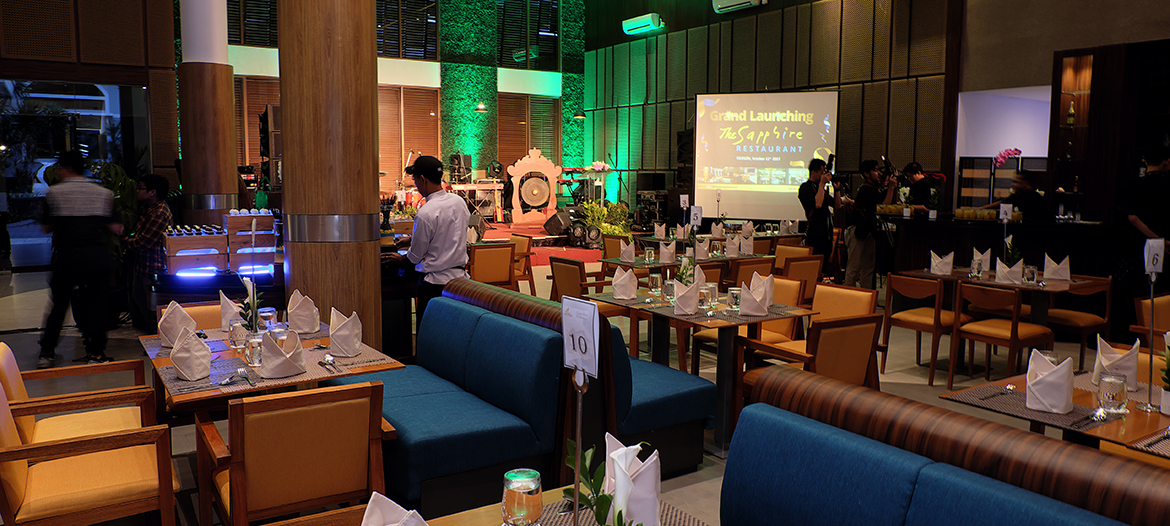 SAPPHIRE RESTAURANT
Introducing the upcoming Project Plan of The Royale Krakatau Hotel – The New Sapphire Restaurant. Rebuild in a new design, presenting the new look of the New Sapphire Restaurant : fresher, lighter, more futuristic, classy and elegant. Upgraded in 2 (two) floor levels with 300 Pax of seating capacities, The New Sapphire Restaurant is complemented with "The Plaza" area – a casual semi outdoor area where it allows guests from Convention Hall to have a direct view of the natural beauty of The Royale Krakatau Golf Course – and also 2 (two) private rooms for a small scale of meeting.
Located at Front Building accross the Convention Hall, the New Sapphire Restaurant has both formal and casual ambience to your mood. The new Sapphire's Backyard is a perfect choice for your outdoor events, such as Wedding or Gathering.
Our high rated Chefs serve Asians specialties as well as a wide selection of International's favorites for your Lunch and Dinner. An ideal place to relax surrounded by the greenery of Golf Course and savour appetizing light meals and sipping high teas while browsing your favourite sites using our complimentary Wifi connection.
Rebuild in a new design, presenting the new look of the New Sapphire Restaurant : fresher, lighter, more futuristic, classy and elegant